I do like pumpkin during the Fall season, but sometimes you just have to let the apples step in. Have you gotten sick of all the pumpkin flavored food yet? I'm not yet, had some pumpkin cheese cake ice cream the other day ago at Coldstone and it was delicious. Now, I'm in the mood for apples. It is mandatory, during the Fall season that you must go apple picking at least once. Now that I'm single, I do not need to have a gazillion bags of picked apples from the orchard, so I just go to the grocery store and get one or 3 of them for myself.
If you've never stuffed your apples with anything before you must try these cheese cake stuffed apples. Next, I'm going to stuff some apples with apple crisp. These cheese cake stuffed apples have changed the way I think about what you can do to apples. No more boring apple pie or apple crisp anymore. Just stuff apples with that instead!
If you're single like me, you can easily scale this recipe down for just one person.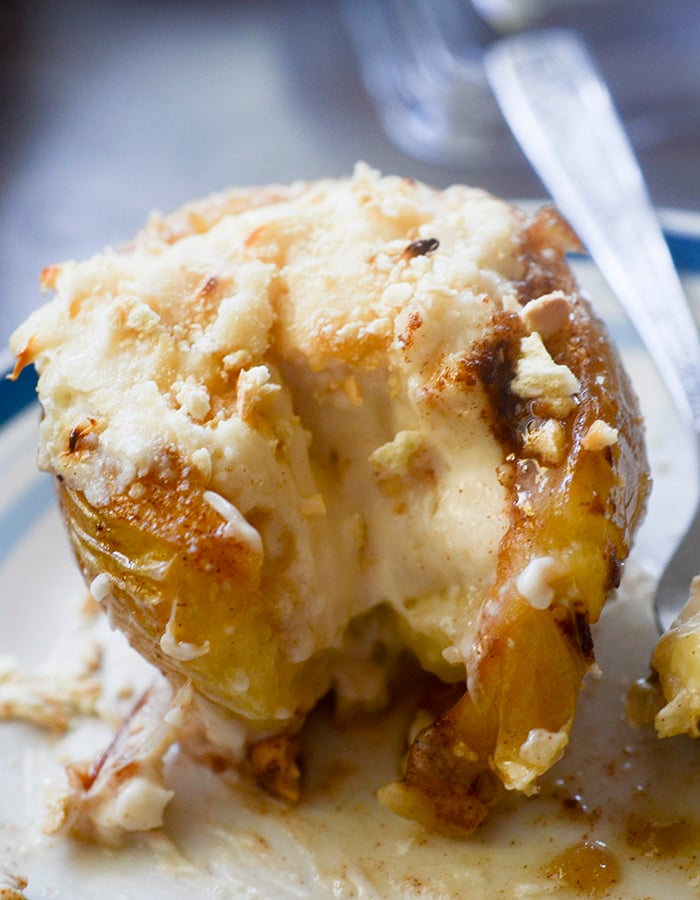 Skinny Cheesecake Stuffed Apples
Ingredients
4 tbsp. melted light butter
2 tbsp. brown sugar
1 tsp. cinnamon, plus more for dusting
4 tsp. baking apples, tops sliced, insides scooped
1 8oz package of fat free cream cheese
¼c. powdered sugar
½ tsp. vanilla extract
Crushed graham crackers, for garnish
Instructions
Preheat oven to 400 degrees F. In a small bowl, mix together melted butter, brown sugar, and cinnamon.
Place apples in a baking dish and brush on apples. Bake 20 minutes.
Meanwhile, in a large bowl, beat cream cheese, sugar, and vanilla until creamy. Spoon mixture into stuffed apples and bake 10 minutes more.
Garnish with cinnamon and crushed graham crackers and serve.
Nutrition Information
Serving size: 1 Calories: 187 Carbohydrates: 26 Sugar: 0 Fiber: 5 Protein: 11
3.2.2708
Save